Ring 8 recently did a good deed, sending a check to the sister of an ex fighter who lives in Texas, a man who is deteriorating mentally, with dementia and Alzheimers. Thanks, Ring 8.
President Bob Duffy opened the meeting with the flag salute and and 10 count in memory of John Connote and Michael Dokes.
President Duffy welcomed several new members to Ring 8.
Frank Pena talked on the 2nd Annual Ring 8 picnic that he ran in Glen Gove. With the money they made they sent 28 kids on a fishing trip. Some of these kids were never even on a boat before. The Mayor and City Councilman gave Ring 8 a Proclamation for there Outstanding Work!
Leonore Lanzillotti, who's brother fought at Sunnyside Garden as an Amateur, talked on the Plaque that will be going up at Wendy's on Saturday, October 6th at 12 Noon, where Sunnyside Garden use to be. John Edebohls, who has worked on this for years also talked on this.
President Duffy talked on our Annual Christmas Party at Russo's on the Bay on Sunday, December 9th.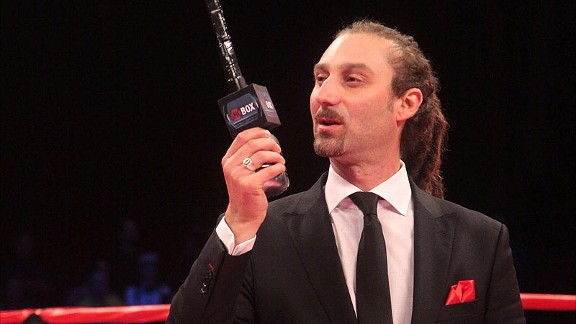 Ring Announcer David Diamante talked on the Brooklyn Nets where he is the PA Announcer. He also became the voice of NBC Sports Network's new highlights show, The 'Lights. The 'Lights airs every Monday – Friday from 7AM – 9AM EST on NBC Sports Network. He will also be announcing on September 29th on HBO.
Ron Ross talked on the condition of Emile Griffith, which is not good. He visited him the other day in the Nursing Home. Ross talked on the wonderful show that President Bob Duffy put on at the Plattduetsche Restaurant, Franklin Square, New York. Not only did they have an Outstanding Boxing Show, with 9 fights, But they also included a play called the "Kid Shamrock," which based on the boxing career of Bobby Cassidy and it was put together by Bobby Cassidy Jr.
Ron read a few poems from his books about Beau Jack and A visit to St. Nicks.
President Duffy stated that Charlie Norkus Jr's father, will be inducted into the California Boxing Hall of Fame in October and Charlie Jr., stated that he would gave a full report when he returns. Ring 8 put in a Full Page AD in Charlie Norkus Sr's behalf.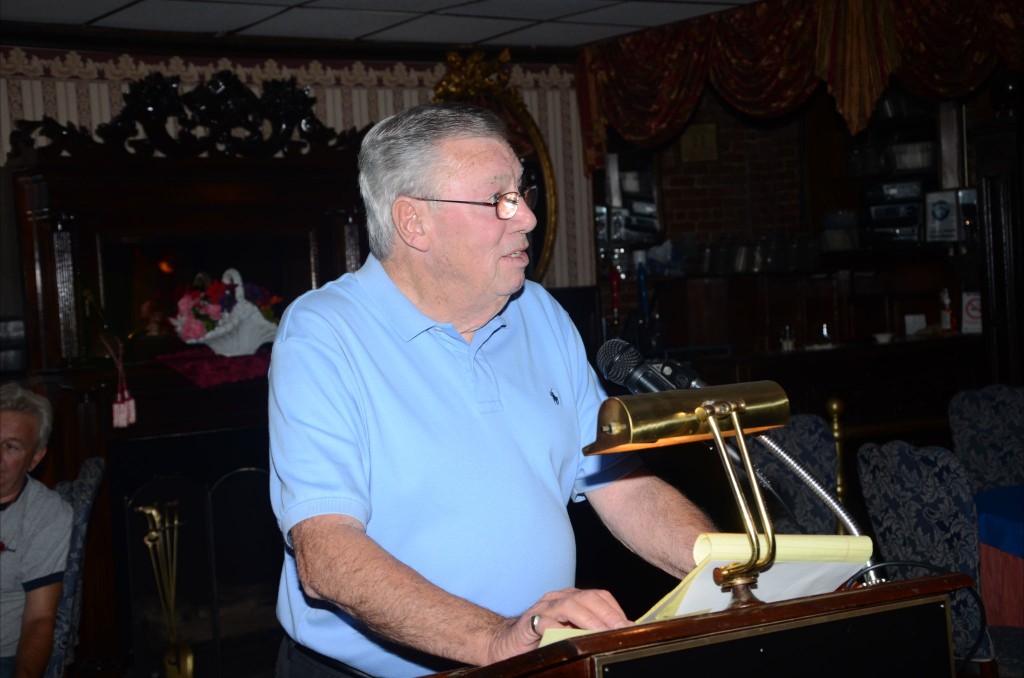 Joe Dwyer talked on the Rocky Marciano Statue that will be put up in Brockton, Mass on September 23rd. The staue was donated by the WBC and it stands 19 feet tall.
The 3 year project by Mario Rendon and Victor Gutierrez is finally complete. It will be shipped to Brockton Massachusetts where a ceremony will take place in the month of September.
Posted under Meeting Notes
Aug-19-2012
The summer is coming to an end and Ring 8 is set to go. The Next Ring 8 Meeting will be this coming Tuesday, August 21st. Our Annual Christmas Party will take place at "Russo's on the Bay" on Sunday, December 9th.
During the Summer Ring 8 headed by Frank Pena had a very successful and well attended picnic in Glen Cove. Also President Bob Duffy ran a highly success boxing show at the Plattduetsche Park.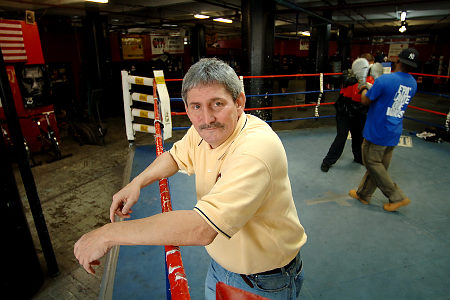 Brooks, Serrano win belts at boxing block party:
By Mike Stafford: Mother Nature smiled upon promoters Bob Duffy and David Schuster on Saturday at the Plattduetsche Park. All week, thunderstorms threatened to knock out the outdoor boxing extravaganza in Franklin Square, Long Island. But the weather was perfect, the fights exciting and the boxing-themed play that kicked off the event was a knockout."
"We had some challenges," said Michael Bentt, the former WBO heavyweight champion who directed "Kid Shamrock." "There was wind, planes flying over head. A lot of outside distractions that wouldn't normally occur in the theater. But the actors rose above it all and turned in a performance they could be proud of."
The day started at 4:30 p.m. with the performance of "Kid Shamrock," an Off Broadway play based on the life and career of former contender Bobby Cassidy. The cast was stocked with current and former fighters. Mark Breland, Seamus McDonagh, John Duddy, Mark McPherson and Junior Jones were the retired fighters in the cast, while active fighters Jake Brodksy, Chris Algieri, Tommy Rainone and Rich Neves participated. In fact, Neves and referee Arthur Mercante Jr. performed in the play and then got in the ring for real later that evening.
Duddy and actress Shannon Lower stole the show with several explosive scenes that depicted the darker days of Cassidy's life. And conversely, Vinny Vella, Patrick Connolly (who both appeared in The Sopranos) brought comic relief to the performance. Randy Gordon, yes the former boxing commissioner, Nick Roman
and Jim Walsh also played to the crowd. Cassidy himself delivered some powerful and emotional monologues throughout the show.
At 5:30, it was time for some real boxing and the fighters didn't disappoint.
In the main event, Mike Brooks went to war with Joey Arroyo for eight heated rounds. Brooks (8-0) carried the day on the score cards 80-72, 79-73 and 78-74 to win the IBA Youth Lightweight Title. Brooks, a southpaw, punished Arroyo with body shots but Arroyo pressed the action to the final bell. The fight was closer than the scorecards made it seem. Brooks was the winner, sharpshooting his punches, but Arroyo stayed with him for every second of the fight. It was the first eight-rounder for both fighters.
Brooklyn's Cindy Serrano (16-5) won the vacant WIBA International Lightweight title with a unanimous eight-round decision over the very game but limited Kerri Hill (4-23-1). Serrano used her speed and combination punching to keep Hill in control for the entire bout. The scores were 80-72 twice and 79-73.
In another eight rounder, cruiserweight contender Santander Silgado (22-0) outworked and outmuscled Joell Godfrey (14-8-1) for a unanimous decision. Much of the fight was spent at close quarters. Whether the action was in ring center or on the ropes, these two cruisers dug in and banged away at each other. The difference was
that Silgado was the fresher and stronger fighter throughout. It reflected on the scorecard as well as the judges had it 79-73 twice and 80-72 for Silgado. Arthur Mercante Jr., after his stage debut, was in the ring for this fight.
"The play was great," said Mercante Jr. "It was a lot of fun acting with everyone. My Dad actually refereed a lot of Bobby Cassidy's fights. So it was great to see Bobby still telling his story."
Neves, who also appeared in the play, brawled his way to unanimous decision win over the tough, but awkward, Philip Burnette. It was the first six-rounder of Neves' career, who scored a knockdown in the fifth round.
"Burnette was very awkward and durable," said Neves. "But I was ready to go six rounds. I could have gone more. I wasn't worried too much about acting in the play. All I really do in my scene is shadow box, which is what I would be doing in the dressing room anyway. It was fun."
The rest of the undercard went as follows: former national amateur champion Adam Willett W6 Miron Kadyrov (cruiserweights), Emmanuel Lartei Lartey w6 Bryan Abraham (welterweights), Dario Soccia W4 Jose Angel Ortiz (welterweights), Tyyab Beale TKO 4 Nathaniel James (heavyweights); Skender Halili TKO 3 Rashad Boger (junior middleweights).
It was a testament to Bob Duffy's matchmaking that there were only two knockouts on the nine-bout card. They billed the event as a "Boxing Block Party," which is exactly what it was. A little culture, some fights, live music and plenty of food and drink. If ticket holders looked on the reverse side of their tickets, there was even a $500 rebate for a brand new Jeep (parked about 50 feet from the ring) courtesy of the event's sponsor Westbury Jeep.
"The day was a huge success," said promoter David Schuster. "I knew if the rain stayed away, everyone would have a great time. And that's what happened. The two title fights were action packed. It was like going to street fair that was boxing themed. That's the atmosphere Bobby Duffy and myself wanted to capture."
That's exactly what they did.
Posted under Meeting Notes